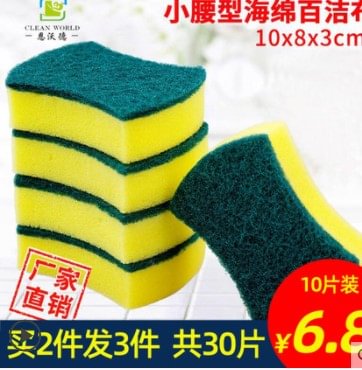 Cost-Saving: Each pack contains 10 cleaning sponges, the size is 3.9 x 3.1x 1.2 inch. They are larger and thicker than ordinary sponges. By purchasing cost-saving dishwashing sponges, you can enjoy the best price for a long time.
Make Your Housework Easier: Our cleaning sponge is made of premium scrubbing material, green scrub side contains decontamination particles special grinding factor, durable and strong decontamination that can help to tackle tough chores. The non-scratch soft yellow sponge side with good water absorption, suitable for scrubbing light oily tableware, fast cleaning without scratching.
Multi-purpose Cleaning Pad:

 

These sponges are ideal for general cleaning duties and tough jobs, such as dishes & appliance cleaning, widely used in the kitchen, bathroom, garage, outdoor, cleaning pots & pans, BBQ's, ovens, griddles, car, table, washbasin and much more, that can be washed and reused over again.
Upgraded Design:

 

Our Double face sponges scourer are using premium adhesive, which does not fall apart or crack easily as regular sponges. The waist shape design is ergonomic for better grip and fits your hand comfortably. The cleaning sponges foams easily even with a little detergent.