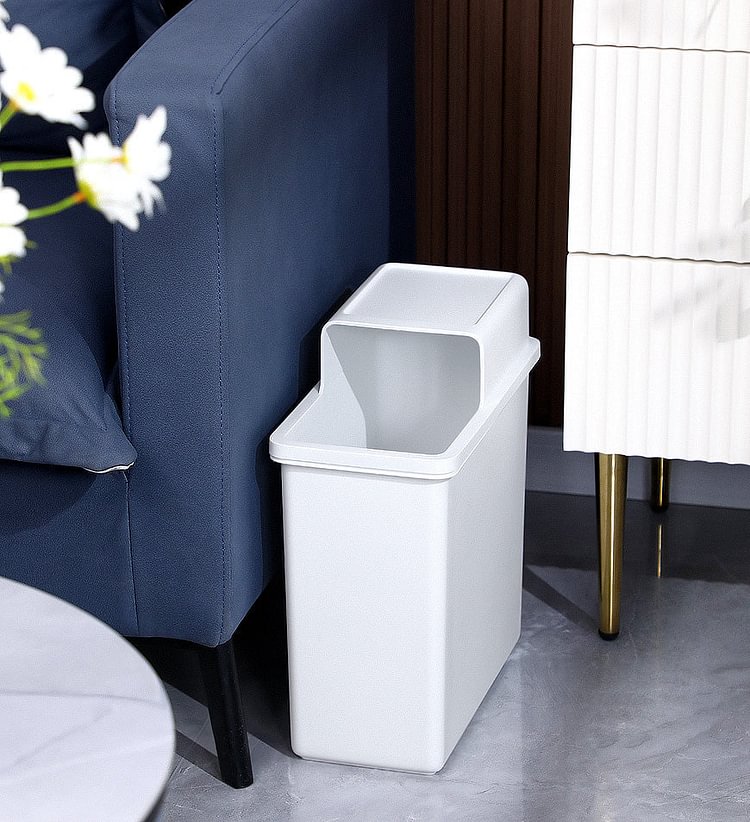 [Fast Shipping from USA, 3~5 Business Days]
Simple and Beautiful Design
Let's say goodbye to the traditional garbage can and add a little new meaning to your life. We are committed to household organizer and storage, and hope our products can bring a little change to your daily life!
Perfect for hiding feminine products and wipes after use. I am so thrilled with it! Hides all my not so picturesque nor fresh smelling trash in a closed, convenient, attractive place
14L / 3.7 Gal mini trash can is suitable for narrow space, such as bethroom, bedroom, kids room, office, toilet, desk, countertop or corner.
The Grand is easy to use, thanks to its semi-covered top cover, which also hides its contents, making it effortless to throw out the trash.
Suitable for All Kinds of Scenes
Our trash cans have smooth edges and clear lines,fashionable shapes matching simple colors make it suitable for various scenarios,I believe it will add beauty to work and life wherever it is placed.
Perfect For Bathrooms: Privacy protection, very suitable for bathroom or bedroom, trash can is placed in the gap between the toilet and bathroom cabinet in the opposite direction, and the storage table can put paper towels and mobile phones to check things..keeps waste hidden and pets out, such as diaper, Cat and dog poop bag.
Office Rectangular Trash Can: It is a really creative solution for paper wastebasket for Under the desk,One-half of the openings do not need to be touched to avoid bacterial infection; is the perfect size for room, toilet,campers,RVs,dorm and other small spaces.
Odor Control and Top Storage Table: You don't have to endure the smell around garbage can with lid anymore! Using the principle of high and low air pressure difference, the odor is firmly locked in the bathroom trash can,so that the odor can only circulate in the garbage can ​and cannot escape; and there is a storage table on the top for placing paper towels, simplifying the cleaning steps , Make cleaning more healthy.
Prohibit Pet Dog Enters: Slim office trash can looks and functions exactly as it should. mechanism is intuitive for humans but impossible to crack for your puppy, and Modern shape matching classic color and smooth lines will enhance your visual enjoyment,Trapezoidal trash bin body design makes the body more stable trash can is very suitable to be placed in a narrow space such as ideal for office, bathroom, bedroom, living room,dorm room, etc, which can help you to save room space.
100%Customer Satisfaction Guaranteed: If quality and Transport damage problems can choose a replacement or refund,you can enjoy unconditional return and refund serivce in JOYBOS. Do not hesitate to contact us if you have any questions. Customer satisfaction is on our top priority.
PRODUCT SPECIFICATIONS
Name
3.7 Gallon Slim Plastic Trash Can
Brand
JOYBOS
Color
White
Material

Plastic

Capacity

3.7 gallons

Shape

Cylindrical

Cover opening mode
Intelligent induction cover opening
Waterproof Level
IPX5
Product Dimensions

13"W x 6.7"D X 14"H

Product Weight

1.67lb



Package Included

1* smart trash can; 1 x Roll of Garbage Bags (20 pcs)