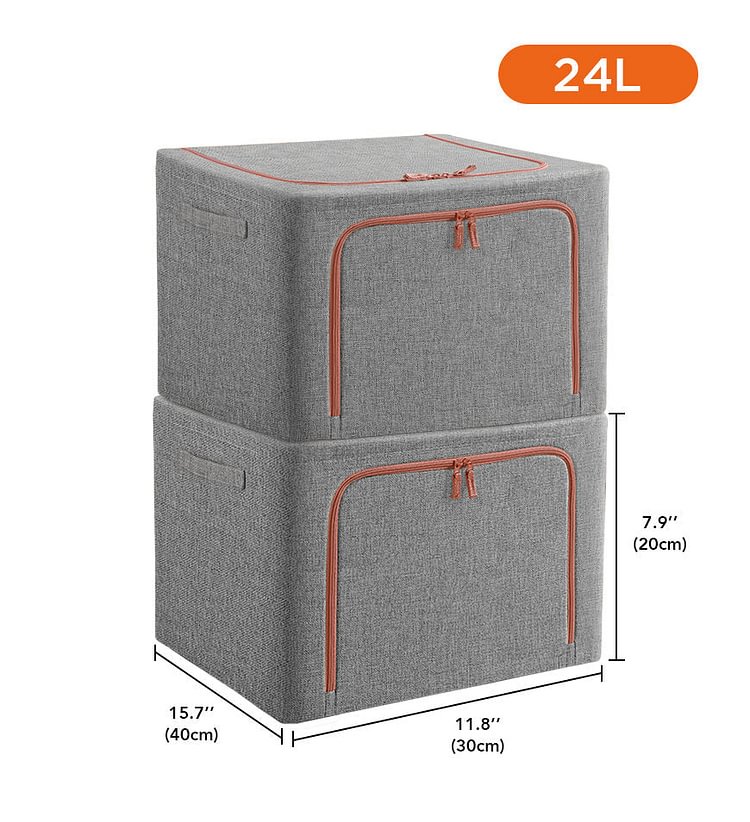 Complete protection from dust, moisture. You can store them for long periods of time without acquiring dust and moisture.
Made of oxford fabric with pleasing looks, the bag makes elegant storage solutions for your wardrobe needs. The steel frame supports the fabric and keeps the bag firm.
Foldable when not in use: The bag can be folded back when not in use. It collapses flat for saving precious storage space. Double zips on the sides and top ensure easy opening and closing. Two handles for easy carry.
Multiple uses: The bag can be kept in your storage beds, closets, wardrobes, storage cabinets. It maximizes your storage space and is perfect for those not-so-frequently used items in your household.
PRODUCT SPECIFICATIONS
Name
Oxford Fabric Clothes Storage Box with Steel Frame
Brand
JOYBOS
Color
Dark Gray; Dark Blue; Khaki
Material
Linen
Product Dimensions
24L:20*30*40cm / 7.87*11.81*15.75inch
55L:28*50*40cm / 11.02*19.69*15.75inch
66L:33*50*40cm / 12.99*19.69*15.75inch
72L:36*50*40cm / 14.17*19.69*15.75inch
88L:35*60*40cm / 13.78*23.62*15.75inch
Product Weight
24L:0.58kg
55L:0.911kg
66L:0.955kg
72L:1.07kg
88L:1.231kg
Package Included
1*Bag & 1*Stents