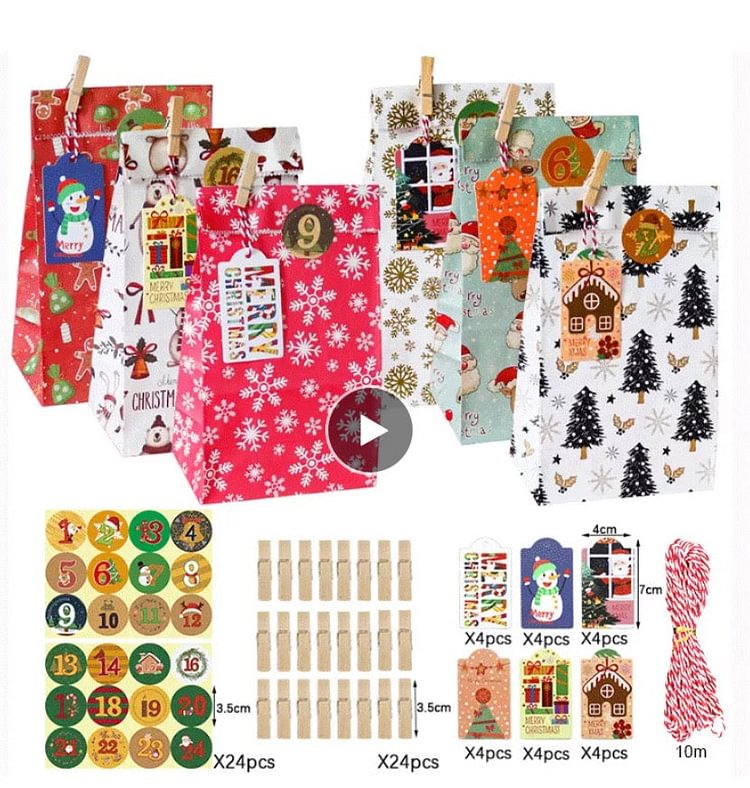 Christmas kraft paper bag combos: In each pack, you will receive 24 kraft paper bags, 24 number stickers, 30 Christmas tags (each type has 3 pieces), 10 meters of string.
Perfect for chocolate, candy, coins, jewelry, and dolls. It can also be used as a Halloween candy bag, wedding decoration, Thanksgiving gift, birthday gift, jewelry, or other uses. This is also the perfect way to surprise your loved ones.
Exquisite print design: these paper bags have a total of 6 kinds of prints, basically some classic and simple Christmas elements, such as Christmas trees, snowflakes, reindeer, Christmas socks, Santa Claus, etc.
These portable kraft paper bags that come with the bag is strong and unbreakable, making them easy to carry.
With 24 digital stickers, your loved ones can open their Christmas gift bags every day until Christmas and receive a different surprise every day. Help them count down the days of Christmas and spice up their Christmas holidays.
Specifications: Material: 70 kraft paper
Bag Size: Set: 12 x 7.5x 23cm
Package size: 22 x 16 x 5 cm.
Package Weight: 280g
Packing list:
24 kraft paper bags
24. x number stickers
30 x Christmas labels
1 x 10m rope