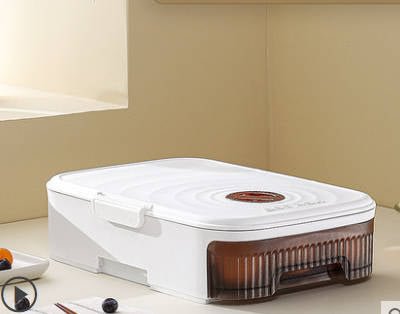 Auto Rolling Egg Holder: The egg storage container for refrigerator adopts slope design, the eggs will roll off automatically to fill the place and you will take the eggs out easily without opening the lid. The drawer is used to take the egg, so you can enjoy the pleasure of taking eggs.
Durable Premium Material: Our egg organizer for refrigerator is made of food-grade PP material, safe and environmentally. Thicker design, more sturdy and durable, can be used for a long time. Low temperature resistant, suitable to keep in the fridge. The lid is strong enough to stack other things on top, saving more space in refrigerator.

Stackable Design: The egg tray for refrigerator each layer is fixed with a card slot, which is firm and reliable, so it can be stacked and stored. Each layer can store 18 eggs, saving space, keeping the refrigerator in order, convenient and practical.

Translucent drawer: The fridge egg container  adopts brown color transparent egg tray design, easy to see, which is convenient for timely replenishment, and it is convenient to load eggs and clean the egg holder. It can be washed directly with warm water and wiped with a rag.


Wide Application: Our fridge egg holder measures 32*23.5*7.5 cm. The fridge containers can be used in a variety of scenarios. Perfect as egg container for refrigerator, kitchen, cabinets, table, restaurant, counter top and racks.