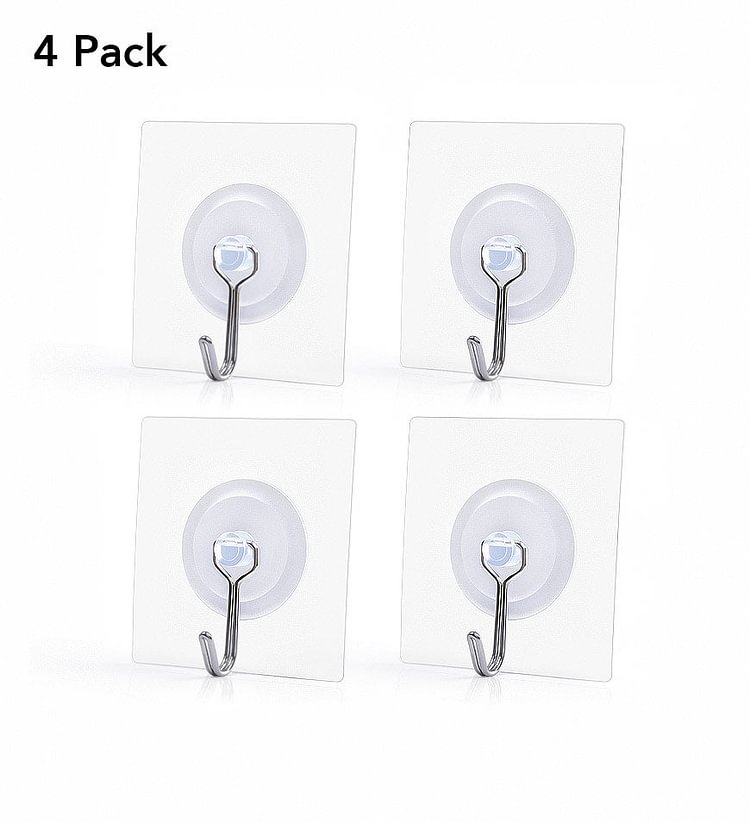 POWERFUL & HEAVY DUTY SUCTION HOOKS— These suction hooks can hold a maximum weight of 3kg ( = 6.61 pounds). High-strength clear plastic material and high-tech locking technology make LUXEAR suction cup hooks not just environmentally friendly and good-looking, but also powerful and stable.
EASY & QUICK TO INSTALL & REMOVE— No tools, no screws, no nails! These suction cup shower hooks are easy to install and remove without damaging your wall. Just choose a completely smooth surface, then push the suction cup onto the surface and pull down the hooks to lock. Finished! NOTE: The surface must be CLEAN and DRY before you install the shower hooks, and press the suction cup tightly for 3 SECONDS onto the surface in order to squeeze air out, then pull down the hooks to lock it.
WIDELY USE ON ANY SMOOTH SURFACE—These powerful suction cup hooks can hold up to 3kg ( = 6.61 pounds). You can use these heavy duty suction hanger to hang towels, loofahs, sponges, or bathrobe (even in a tiled shower!)—to hold utensils, washcloths, or aprons in the kitchen — or organize hats, coats, jewelry, bags, or decorations in your bedroom.
PREMIUM QUALITY SUCTION HANGERS—These heavy duty suction hooks are made of high-quality silicone rubber and durable plastic, which ensures that the hooks are transparent, durable, waterproof, oil-proof, dust-proof, and long-lasting, perfect for wet areas such as bathrooms and kitchens. The high-quality materials of these suction cup shower hooks also can prevent yellowing or graying caused by oxidation.
Warm Tips—Our vacuum suction hooks securely stick on windows, mirrors, glass, metal, ceramic tile, or any other non-porous surface, BUT they do not work well on rough matte surface. And our suction holder hooks have superior, long-lasting endurance, weather resistance, oil resistance, anti-aging, and no defects.