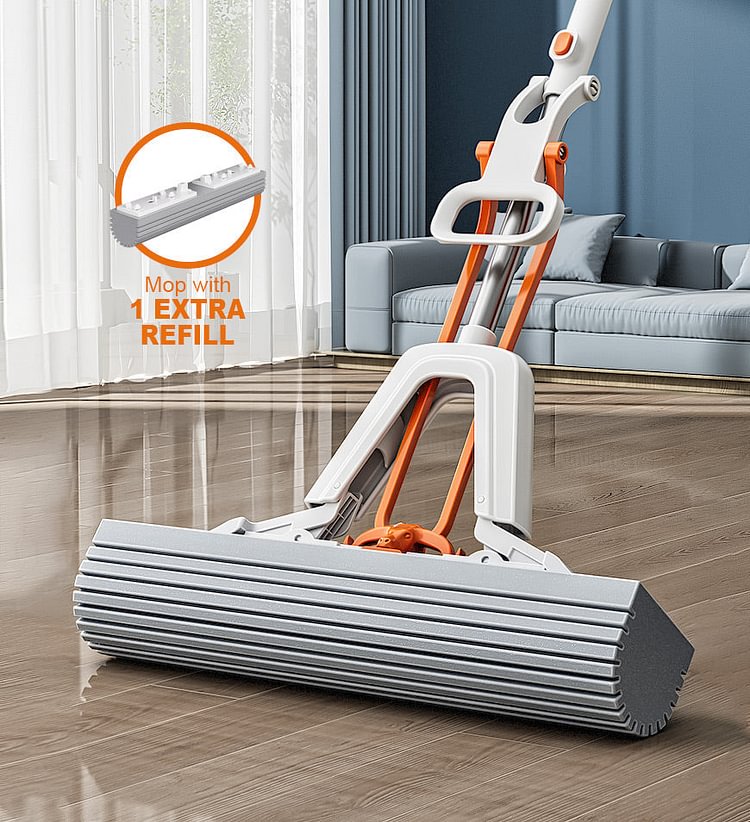 Super-absorbent PVA sponge head: this sponge head can not only clean dust, hair, debris, etc. when it is wet, But also has super water absorption capacity when it is dry. And it cleans gently without scratching and is safe for all floor surfaces including tile, laminate, marble and wood.
One -button change mop head: 1)Install: Aim at the groove, use your strength to insert the buckle clamp on the sponge head into the groove; 2)Remove: Press the button on the pole and the mop head fall off automatically.
Double squeezing technology: This mop adopts double squeezing technology, easily squeeze the sponge head by pulling and lifting the manual joystick, which can complete two squeezing at the same time through one lift and pull, Folding opposite extrusion can squeeze water more quickly and thoroughly, saving time and effort.
Efficient and Versatile Cleaning Ability: There are grooves on the surface of the sponge head. When the sponge head is dragged on the ground, it acts as a broom, collecting fine fluff, hair and dust particles. You can adjust the posture of mopping at will to make the three sides of the mop head fully contact the ground. And this mop head can be used in tight corners and makes deep cleaning easier.
Suspensible, extension pole and stainless steel: New and improved pole design accommodate various heights and tasks, let your waist and back no longer hurt from cleaning. The lightweight design allows you to reach tall windows and deep under furniture without tiring you out. When you are done, you can clean it and hang up to dry, save space.
Material: PP+PVA+Stainless Steel
Product weight: 1.3kg
Long: 108cm
Packing included: 1* Sponge mop; 1* refill