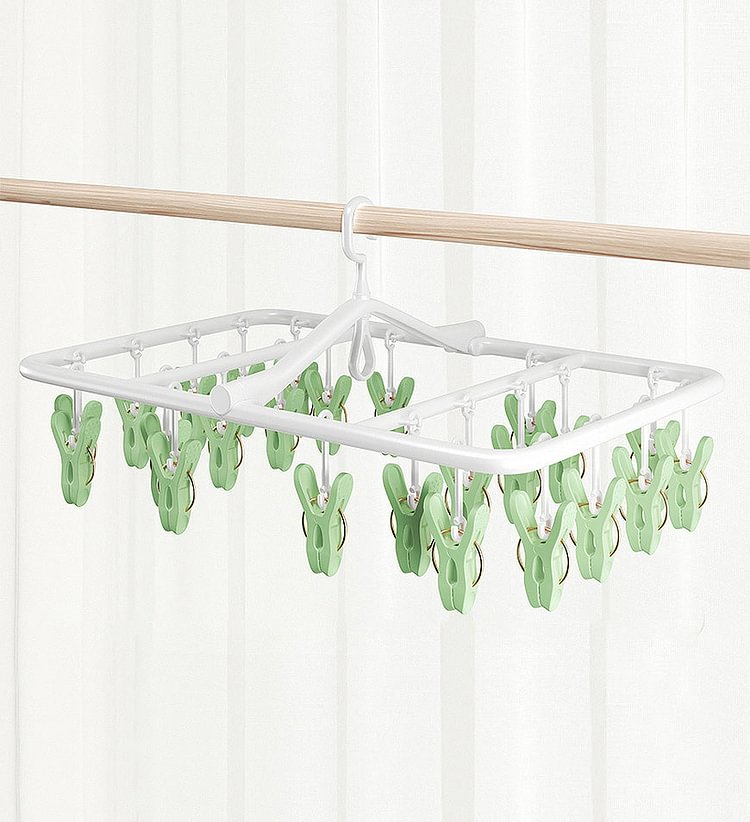 Perfect Design: Designed with a convenient 360° rotatable neck and smooth swivel hook, this hanger for socks can be rotated to any angle you want and it is easy to dry laundry from all directions. Hanger clips are perfectly spaced to efficiently maximize airflow. Our clip and drip hanger - your lifestyle change-maker.
Space  Saving: Our laundry underwear hanger hangs up to 24 small items in compact space for multipurpose drying or storage. Hanging design saves valuable space while saving money on drying costs. Collapses flat when not in use for easy storage, saving 50% space. The clip and drip hanger fit all closets and are perfect for apartments. Your Space-and-time Saver!
Multipurpose: Our hanger with drying clips is designed for both hand washing and machine washing items, fits in hanging towels, underwear, scarves, panties, bras, shirts, ties, hats, socks, masks, handkerchiefs or other clothes. Easy to hang it on closets, shower curtain rod, laundry room, outside clothesline, etc. The foldable drying hanger with clips is lightweight and easy to carry.
Materials: Drying hanger for socks made of high-quality plastic and long-lasting spring, it is extremely sturdy and durable. The 24 pieces of high stretch clips hold items tightly. Plastic clips with fine-grained, non-slip teeth but will not leave marks on your beautiful clothes.
360° swivel hook
Powerful clip
Rotary shaft design