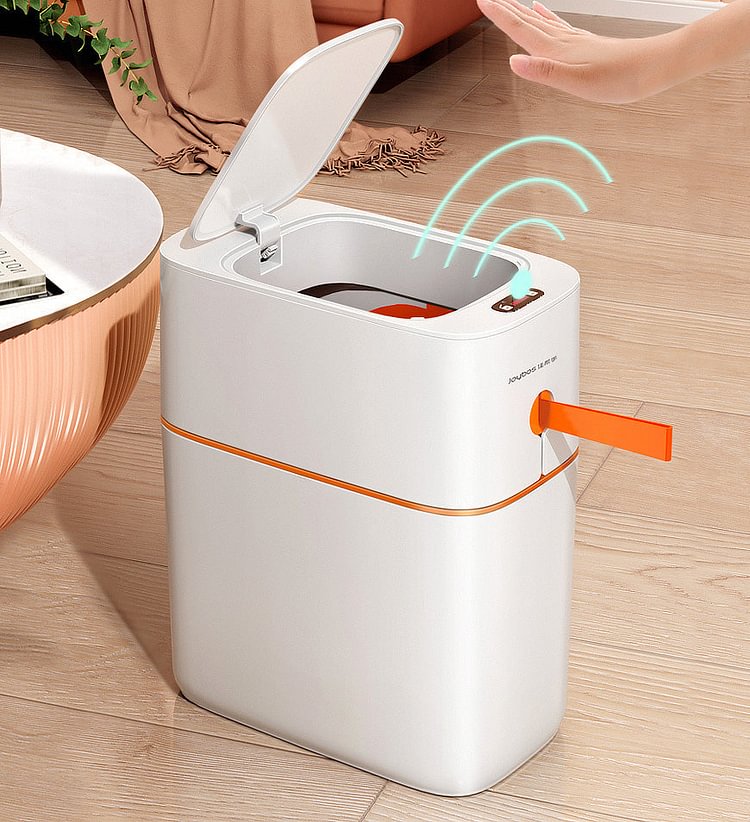 Independent research and development, practical new products, multiple core technologies
When you need to throw out trash, just wave your hand or bend your knees 7 inches above the induction area, and the JOYBOS automatic bathroom trash can will open the lid at 0.3S speed, so you don't wait to throw out the trash.
The brand-new patent privacy trash can, one pulls the package, no dirty hands, closed packaged trash is invisible, allows you to be completely separated from the dirt and trash, and protects personal privacy.
JOYBOS trash can with automatic lid,Silent and slow drop, no noise when opening and closing, humanized design, silent and slow drop opening and closing cover, to provide you with a quiet family atmosphere.
Original lighting countdown, keeping the lid closing time at any time, one-key normally open lid setting, when you need to open the lid for a long time, press the normally open lid button, which is convenient to use.
Fashion design, warm colours, full of family warmth, it is the perfect gift for your family and friends.
JOYBOS smart sensor trash can, after years of research and development, pay attention to people's daily use habits, starting from the details, using fine materials, to create the best trash can for you.
Smart panel, different light colors, often open cover button design, intimate and practical.
Pull the drawstring to facilitate packing, smoothly take out the garbage, and prevent dirt and peculiar smells.
High-quality spring designs, after many tests and experiments, can be used for a long time.
Good helper kitchen trash can, just to solve your troubles of throwing garbage
Flatten the entire set of garbage bags and leave the drawstring of the garbage bag on the outside of the garbage canfor easy lifting.
Patented technology, the drawstring can be shrunk with one pull, and the trash can be quickly packed to avoid smell and trash dirty hands.
Lift it gently, the garbage bag can be taken out directly, and the packed garbage can be easily thrown away.
JOYBOS sealed trash surprise color to your life
When we need a surprise gift, JOYBOS sealed You can show your friends its good induction-pull packing effect, and let your friends experience the same time.
This trash container for car is especially suitable for limited or narrow spaces, suitable for motorhomes, bathrooms, bedrooms, kitchens and living rooms.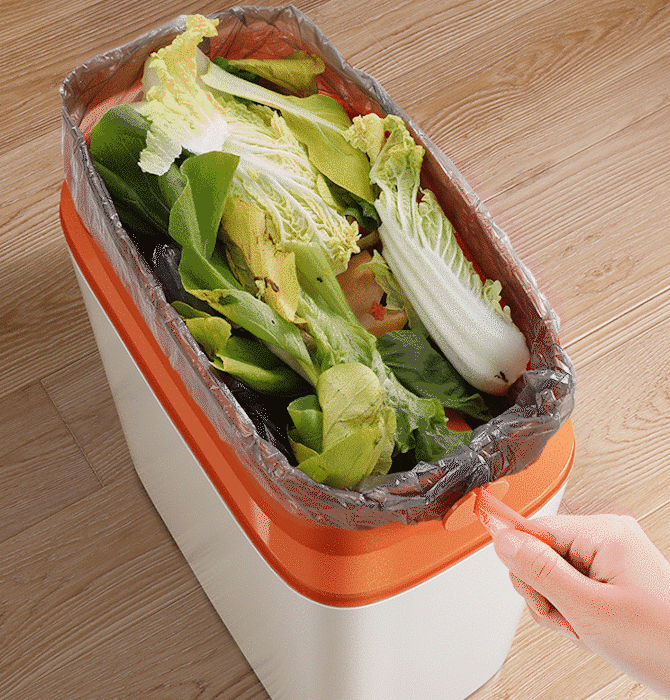 Large-capacity barrel meets daily needs, durable plastic material, easy to maintain and clean.
Pay attention to privacy protection to make our lives more private.
When the battery is dead, you can also choose to open the cover manually, which is convenient and simple.
Important note: please install the battery before using this sensor automatic trash can. After the sensor light turns on, you can wave your hand or bend your knees to open the lid. When the sensor light turns off after 5 seconds, the lid will automatically close. When you need to open the lid for a long time, please press the opening icon on the left side of the sensing area, and when you need to close it, please press the closing icon on the right side of the black area of the sensing area.
A variety of ways to open the lid: one key to open the lid, easy and labor-saving brand-new smart design touchless bathroom trash can, infrared sensor, fast opening in 0.3 seconds, wave-sensing touch-free trash can, one-key normally open lid for easy use. Knee bending induction avoids bending, saving time and effort. When you need to open, just gently place your knees on the 8-inch sensing area above the trash can, and you can easily open the lid. It is a good helper in your life.
Easy to lift, fast to pack: after years of research and development, joybos's original packaging design smart kitchen trash can, when you need to change the trash bag, you only need to open the trash can lid and lift the trash bag rope to pack the trash away directly without touching the edge of the trash bag. Keep away from dirt and rubbish, the thoughtful design of this bathroom wastebasket allows people to stay away from the worries of packing rubbish.
Narrow and ultra-thin barrel, saving home space: the slim kitchen trash bin with a capacity of 15 liters/4 gallons can save space and is especially suitable for limited spaces or narrow gaps. It is the perfect companion for bathrooms, bedrooms, offices, children's rooms, toilets, campers, rvs and other small spaces.
Waterproof and moisture resistant bathroom trash can without fear of dripping: in order to facilitate the use of the bathroom, joybos smart trash can adopts high-quality materials and advanced design to ensure that the trash can can be used normally in the bathroom. The body of the trash can is dirt and waterproof. It is packed with one pull and kept away from bathroom garbage.
100% customer satisfaction guarantee: if you encounter quality and transportation damage issues, please feel free to contact us. At joybos, you can enjoy unconditional return and refund services. We will ensure that customers get the most perfect shopping experience.
PRODUCT SPECIFICATIONS
Name
3.4 Gal Motion Sensor Trash Can
Brand
JOYBOS
Color
White
Material
ABS+PP
Capacity
3.4Gallons / 13L
Shape
Rectangle
Cover opening mode
Intelligent induction cover opening
Waterproof Level
IPX5
Product Dimensions
30 *34.2*16.5cm / 11.8*6.5*13.5inch
Product Weight
1.54kg
Package Included
1*sensor trash can; 2*bag of drawstring trash bags(total 30pcs)