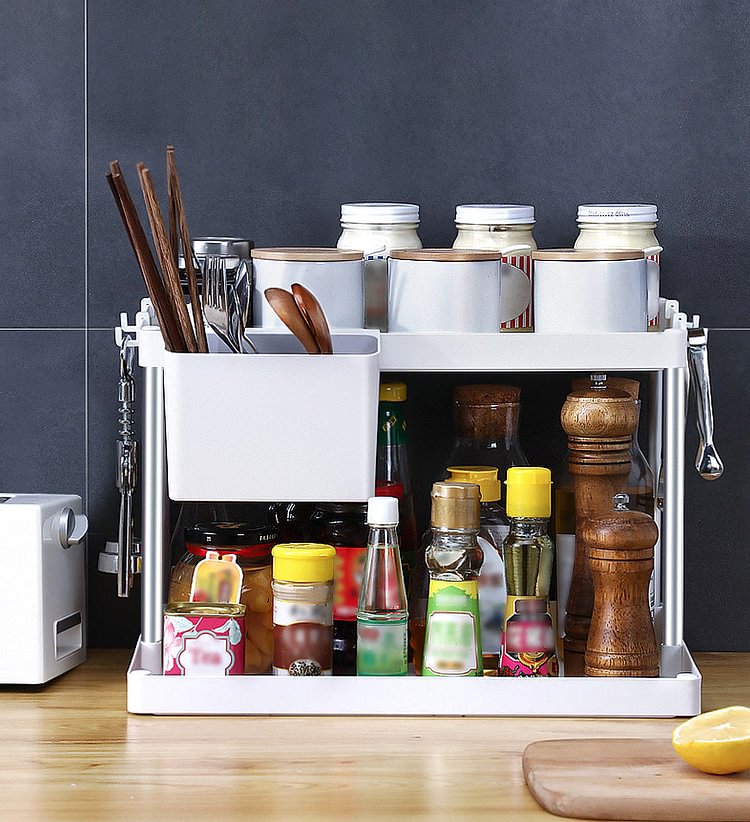 Detachable Dedign:The 2 tier storage rack is detachable which can be disassembled into a single bathroom vanity tray. Also suitable for kitchen and bar, holding glasses, plates, bowls, beverages, appetizers, coffee, wine and more.
Multi-Use:The storage rack is very suitable for storing household items, such as lotion, cosmetics, nail polish, towels, detergent, soap, shampoo, and can be used as kitchen spice rack for holding grains, canned food, salt. Or as under sink organizer for holding household cleaner, sundries, and so on.

Save Space:The storage rack tray is 2 tier which has enough space to making your vanity essentials, like perfume, shampoo, lotion bottles, cosmetics well organized and orderly stored instead of messy. The serving tray will make pick and take more convenient.

Unique Designed:The storage rack has high edges on all sides to keep everything in place. 4 pieces of side mobile hooks are convenient for hanging different small items. And 2 hanging cups to can put toothpaste, makeup brush, hair comb and so on. Also equipped with hooks for hanging bath ball, towels and handles for easy moving.

Easy to Install & Clean:The storage rack can be completed installed without using tools. easy to clean. Just wipe with a clean damp cloth.